With its picturesque beaches and relaxed atmosphere, it's no wonder that Byron Bay is such a popular tourist destination. Every year, the beachside town attracts more than 2 million tourists. The view of the beaches and rainforest, as well as its ambience, gives the town its characteristics. The coastal design style around the town also adds to the overall aesthetic of the place. With café interior designs exuding cosy vibes, stores decked out with bohemian style, and homeware stores offering beach style furniture to blend in with the coastal atmosphere, Byron Bay is a beachside dream.
Accommodation provided for tourists is also designed uniquely, moving away from generic hotel vibes. This makes even the indoor stay as picturesque as the outside view with gorgeous indoor décor and design. Depending on the style preferred, tourists have many options to choose from. This even incorporates unusual types of accommodation that offer a unique experience, such as a treehouse shelter. From contemporary styles with simple furniture, designs that give a feel of being at home, modern styles with timber ceilings and beach-inspired designs perfect for surfers; there's a design that will fit what any kind of tourist is looking for. Even if it's for features of the room such as surf inspired décor, gorgeous curved walls or rooftop rooms. It may even inspire some people for ideas to implement to their own homes with the coastal interior design trend that many hotels emit.
This scenic town not only attracts tourists and backpackers- but also celebrities, with an influx of big names flocking to Byron Bay, including Chris Hemsworth and Elsa Pataky who moved there with their 3 children in 2014. Their massive mansion worth $20 million in Broken Head made headlines when they moved to the new mansion in 2019. Although they moved from being local residents to being local visitors as they decided to move to Sydney in March of this year. Other celebrity residents are Olivia Newton-John, Elyse Knowles, and Isabel Lucas, with others such as Matt Damon known to be frequent visitor of the town. Perhaps part of the reason why celebrities are attracted to the town is due to the lack of interest the residents have in them. Due to their general laid-back attitude, the locals aren't fussed when it comes to famous stars and don't fawn over them.
Although this may be good news for the tourism industry and publicity of the town, the growing attention has caused unrest and annoyance among the residents whose everyday lives or activities have changed as they compete with increasing demands caused by visitors. Some services even struggled to keep up with increasing demands, such as gyms, some of which no longer sign on new clients due to these demands as well as COVID restrictions. Taxi services have had to turn off their phone lines due to high demands and Uber services have longer delays and inflated rates. Some restaurants now require bookings and no longer allow walk-ins, and locals have to compete with visitors for bookings for hair and beauty salons. Byron Bay town is around 9000 in population and Byron Bay Shire has a population of 30,000, but this number climbs up to 200,000 over each holiday.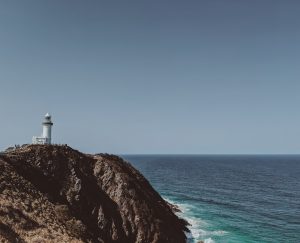 A recent cause of anger for the residents is the filming of Nicole Kidman's new show Nine Perfect Strangers. Due to this TV project, up to sixty holiday homes, as well as rentals, have been taken off the market for 6 months. The production of the project is also causing major traffic delays and problems. Although the project does bring benefits as it brings hundreds of jobs to the region and it also brings more spotlight to the industry which was hampered due to COVID.
Netflix has also recently announced its upcoming reality TV show name 'Byron Baes' which is set to feature influencers as they show their lives in the area. This also irritated the locals, with one even describing the upcoming show as 'tasteless'. Many are disappointed with the changes that celebrities are bringing to the town, as it seems to be altering the laid-back coastal town into a busy tourist attraction that's even being dubbed as Australia's Hollywood. There are also concerns that the TV show could paint Byron Bay as a glamorous town, which takes away the bohemian atmosphere that it originally was known for.
Due to the growing interest, the town is gaining, not only celebrities are purchasing property in the area but also the residents of the cities who are making their move into the area. As a result, the real estate market skyrocketed and has become competitive, frustrating locals who can no longer afford to compete with the increasing prices which climbed by more than 40% in 2020. In fact, Byron Bay had the highest property price growth in 2020 nationally. Rent has also increased, which forced some locals to move out as they can no longer afford it, adding to the problem of homelessness in the area.
The local residents of Byron Bay grew up alongside the beautiful beaches and rainforest, which gives not only physical beauty but also a relaxing atmosphere. It was known and loved for its hippy or bohemian vibes, which made it a popular holiday destination. But due to the recent influx of celebrities, it has given more attention to the town, attracting more and more tourists who are following in their footsteps. As more celebrities move into the town, whether for a permanent home or a holiday home, other people have also moved into the area, causing some of the locals to decide to move out as they felt that the charm of the town has diminished. Additionally, recent projects such as the filming of the movie 'Nine Perfect Strangers' and the reality TV show 'Byron Bae' has also caused problems from short-term nuisance such as major traffic to long-term effects such as glamorising the town. This has caused locals to feel angry towards celebrities as they feel that their town has been disrupted.